Are you ready? Here's the worlds biggest bum!
Well folks, this one definitely dethrones Miss Anaconda. If you remember that famous song by Nicki Minaj, then you will realise what we mean here.
Nevertheless, this is a story that will taunt you to, perhaps, come out and be honest about your rear!
We have seen it all, have we not? From the boobs job to the biggest rear job!
Sky's the limit, the OnlyFans model with the "world's biggest bum" says as she flashes her posterior to stun her fans.
Natasha Crown is on a rare and weird quest to acquire the title of the "world's biggest bum."
Stunned followers were awed with a provocative new Instagram photo of her posterior while she encourages them not to be shy about theirs with her "the sky's the limit," tag.
Natasha is from Serbia, a breakaway republic from the old and famous Yugoslavia, and no one expected the former country of President Josip Broz Tito to deliver the world's largest rear.
The Only Fans star updated her Instagram with a series of photos to please her fans and keep them up to date on her progress this week.
Natasha was seen posing with her back to the camera in her latest photo, in which she was wearing a tight floral dress.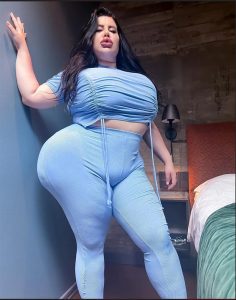 According to some British newspapers, she has a curvy rear.
Butt then, the 27-year-old says she has so far undergone five bum lift surgeries to achieve her curvy rear. She is planning a sixth soon.
Discussing about her wish to have the world's biggest booty, she said: "I'm going to have the world's biggest bum.
"That's my goal and I'm going to reach it.
"When I was 20 years old, I did my first surgery and it was a BBL. I did my last Brazilian butt lift one month ago and that was fifth."
NOTE: Photos are from @natasha_crown_official1/Instagram)